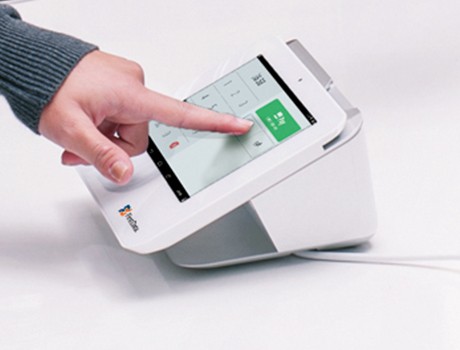 Get exactly what you need……………
Clover Mini is the sleekest, most flexible payment terminal around. Keep it simple by accepting payments or ramp it up to manage your entire business—Clover Mini can handle whatever comes your way.
Benefits for Business
Clover Mini is small, powerful and looks good too. It accepts virtually all payment types and has the ability to scale up to full point-of-sale (POS) functionality. And as you grow, it can too with specialized apps from the Clover App Market.
Accept more payment types.
Take all kinds of payments, from magnetic stripe, EMV® chip, standard credit and debit cards to contactless payments, without additional equipment or software.
Simplify your business.
Clover Mini gives you everything you need to make running your business far less complicated and a lot more fun.
Safeguard your hard work.
Help keep your and your customers' information safe with built-in fraud protection from Clover Security.
Increase customer loyalty.
Set up a digital loyalty and rewards program to attract new business and keep customers coming back for more.
Turn data into information.
Tap into valuable insights about your customers, what they buy and your business so you can grow your business faster.
Access anywhere, anytime.
Run your business on cloud-based software so you can access your information from any device.
Accessories & Software
Holsters based on your business needs

Access to the Clover App Market

Our three tiers of Clover Software plans combined with the Clover App Market allow you to choose the solutions that best meet the needs of your business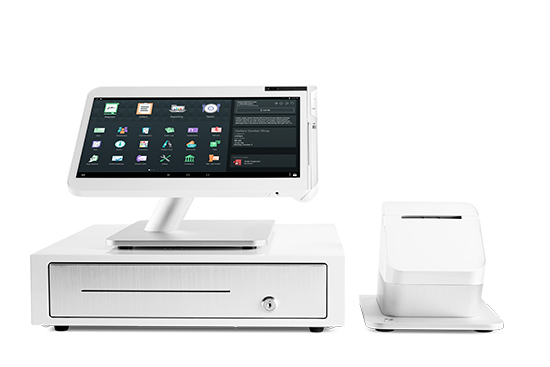 Meet Your New Business Partner…………….
As a business owner, there's always more to do - more customers to help, more orders to fill, more ways to improve. Clover Station helps lighten your load. It's an all-in-one point of sale and payments system that gives you tools to help simplify running your business, so you can focus more on doing what you love.
Benefits for Business
Clover Station makes it easier and faster than ever to run your business using one device. Built-in capabilities allow you to simplify daily tasks, speed up transactions, engage customers and accept the latest payments effortlessly.
Accept more payment types.
Take virtually all kinds of payments, from magnetic stripe, EMV chip, standard credit and debit cards to contactless payments, straight out of the box.
Bigger and Better View
Make a big impact with a 14-inch, HD display and swivel feature for smooth customer e-signatures and engagement.
Two Printer Options
One printer has an optional customer-facing display and contactless payment acceptance. The other prints receipts fast with the high-speed option.
The Power to Do More
Multi-task like a pro with 4GB of RAM that can run multiple apps and enable faster transactions.
Peripheral Enabled
From barcode scanners and weight scales to kitchen printers and more, Clover Station is compatible with a variety of peripherals.
Ultimate Flexibility
Clover Station works seamlessly with all Clover devices to support transactions at the counter, in line or on the go.
Accessories & Software
Free, built-in apps get you up and running quickly

Clover Software plan allows you to manage detailed inventory and orders

Access more tools in the Clover App Market to help run your business better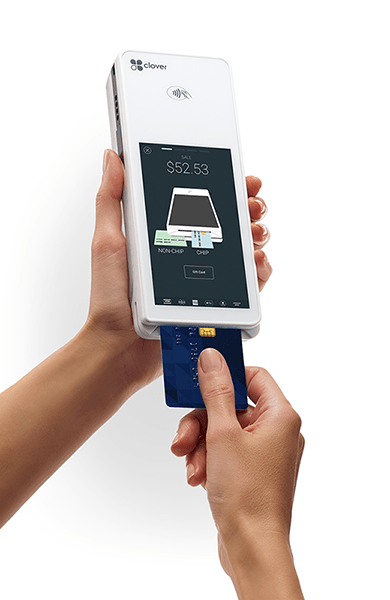 The flexible solution designed to meet your full range of payment and point-of-sale needs…………
Clover Flex is the all-in-one device with the built-in capabilities to help you serve customers better—whether at the counter, in line, at the table or in the salon chair.
Benefits for Business
Clover Flex features the same industrial strength payment capabilities and security as larger Clover devices with the flexibility to take payments at or away from the counter.
Accept more payments.
Accept magnetic stripe, EMV® chip, standard credit and debit cards, and contactless payments (like Apple Pay®).
Protect what matters.
Help protect your customers, your business and your reputation from fraud with built-in Clover Security.
Improve efficiency.
Take orders, scan and manage inventory, accept payments and print, email or text receipts. It's all included in the sleek and durable Clover Flex.
Manage Your Business.
Monitor real time sales data and manage employee permissions and shifts from anywhere through our web dashboard and mobile companion app.
Enjoy mobility.
Because it's a wireless point-of-sale device with Wi-Fi and 3G connectivity, Clover Flex lets you do business right where you stand.
Connect with customers.
Build effective loyalty programs, collect customer feedback and send customer promos in minutes.
Additional Features
Easily integrate - Works with all Clover Family devices

Work mobile, longer - Long-lasting battery gets you through an average workday

Everything you need - Embedded printer, barcode scanner and camera

See the quality - 5-inch HD touch screen display with clear, crisp images

Do business anywhere - Works on WiFi and 3G networks – even works offline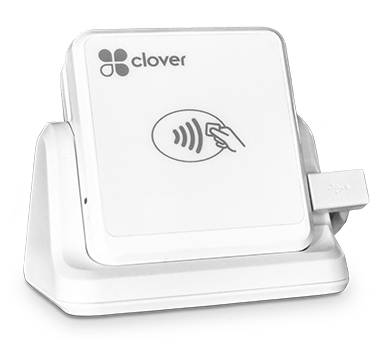 Wherever Your Business Takes You………………………….
Clover® Go makes it easier – and safer – to take your business to your customers. Whether at the local farmer's market or at a customer's job site, you can accept payments on the go, wherever you have a wifi or cellular connection.
Benefits for Business
With the NEW Clover Go, you have an all-in-one reader for contactless, chip and swipe card payments — including Apple Pay®, Samsung Pay™, and Android Pay™ — right from your personal smartphone or tablet. And it comes with clear, intuitive reporting with powerful insights to help your business grow.
Simple
Ready right out of the box. Just charge, plug in and use with your iOS or Android device.
Powerful
All you need, at your fingertips with custom tip and tax rates,  permissions for employees,  transaction history and the ability to email or text receipts.
Flexible
Goes where your business takes you, flexibly accepting contactless, chip and swipe  card payments such as Apple Pay, Samsung Pay and Android Pay.
Secure
EMV chip cards help reduce fraudulent activity, and your transactions are backed with Clover Security data protection.
Smart
The Clover web dashboard allows you to manage your business from wherever you have an internet connection.
Friendly
24x7 care and support are available when you need them.
Helps you manage your business
Simple integration with other Clover products

Set custom tip and tax rates

Add and manage Clover Go permissions for employees

See your transactions on the Clover dashboard

Email or text receipts to your customers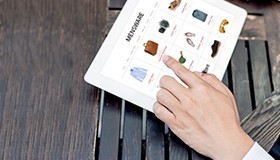 Let customers find you wherever they are……………………………
If you're not online, you're missing out. Let Clover give you a great looking online store that connects your business to the world.
Benefits for Business
Clover Online is everything you want in a dynamic eCommerce solution. Boost your website experience by offering more customer payment options, protect it with powerful security features, and deliver it all with simple, seamless integration.
Get online—now.
It's all-in-one—online store, shopping cart and hosting. Professionally designed and super easy to use.
Works across mobile devices.
With its fully responsive design, your online store works as easily on tablets and mobile phones as it does on computers. Now your customers can shop with you in their preferred way.
Pay their way.
Give your customers the freedom of flexible payment choices built-in to your online store.
Drive traffic online and in store.
Your online store gives your business exposure and helps you gain new customers.
Key Components
Fully integrated - Your online store and your Clover POS system will just work together. From inventory to insights, it's one seamless experience.

Safe & secure - With state-of-the-art security and deep encryption, every Clover transaction is designed to fully protect your customer data.

Support when you need it – Have a question? Find an answer, about whatever, whenever. We have real humans ready to offer real support.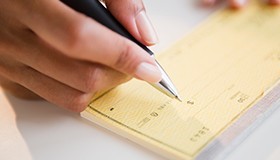 Accept checks and ACH payments……………………
Clover Check Acceptance enables you to safely process check and ACH payments in whatever way makes sense for your business. Payments are funded electronically and can be guaranteed against chargeback—all at a cost that is typically lower than card acceptance, and with a higher approval rate.
Benefits for Business
Clover Check Acceptance uses leading risk assessment technology and extensive consumer databases to minimize risk upon payment acceptance. And with multiple options like taking payments from your smartphone, website, or Clover® device, you can find the right coverage for your business.
Offer payment choice.
Allow customers to pay as they please, while improving your cash flow.
Lower expenses.
Pay less than you would with cards, eliminate bank fees and create operational efficiencies.
Reduce risk.
Lessen chargebacks and significantly reduce fraud losses by shifting the responsibility of bad checks to TeleCheck.
Increase security.
Protect your customers' personal information from identity theft every time they pay.
Key Components
Check Acceptance In-Person (ECA) converts paper checks to electronic transactions at the point of sale

The Check Acceptance app on Clover enables In-Person (ECA) so you can accept checks with ease and receive funds within 2 banking days

Electronic deposit helps save time and reduce expenses

Check Acceptance Online (ICA) helps you expand your business and maximize online sales
-Ability to securely accept check/ACH payments online
Ability to establish pre-arranged recurring payments via merchant's website

Check Acceptance Mobile App (MCA) enables clients to process checks electronically, virtually anywhere using their smartphone or tablet

All Clover Check Acceptance products offer a warranty that can eliminate fraud costs by having TeleCheck absorb bad check losses, so you don't have to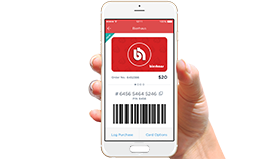 CLOVERV® VIRTUAL GIFT CARDS
Gift cards made simple and effortless for everyone………………….
From "Happy birthday" to "Thank you," customers love to give gift cards. And people love to get them. With Clover® Gift Cards, you can launch your own mobile gift card program in minutes.
Benefits for Business
Boost sales.
Bring new faces into your business. Even better, offering gift cards to customers may drive them to spend more than the value of the original gift card in your store.
Engage customers.
Make it easy for customers to get and redeem cards right on their phones. Plus, when it's this easy to gift and redeem, it'll drive loyalty and foot traffic.
Reduce fraud.
Replace paper certificates with gift cards and decrease the chances of cards being counterfeit, lost or stolen.
Stand out.
Help your business outshine other local merchants and compete with big-box stores when you offer gift cards.
Key Components
Branded gift cards that eliminate the need for paper certificates

Ability to track balances, create promotions and issue store credit
      -     Integration with your system so you can manage the entire program from one place*
* Requires eligible point-of-sale equipment
https://www.firstdata.com/en_us/products/small-business/all-solutions.html